Roll Forming Machines – types and applications
November 3, 2015

Posted by:

chinarollingmachine

Category:

KNOWLEDGE
1 Dedicated
Featured:
Inboard stands with bottom to top gears drive
Top to Bottom shaft Ratio – fixed
Worm gear reducer's connection – Bottom shaft driven
Outboard Stand – removable
Heavy Duty Base
Applications:  This type of Roll Mills is build for dedicated product/products
2 Continuous gear reducer box
Featured:
Inboard continuous Gear Reducer
Outboard Stand – removable
Heavy Duty base
Applications:  Build for dedicated product/products (can be used for few Products with same Roll Tooling Diameter). It is a less expensive version of Dedicated Roll Mill. The gears are hardened teeth. It is convenient for mounting side roll passes.
3 Cantilevered
Featured:
a. Continuous Gear box reducer
b. Shafts cantilever length – 5-6"
c. Easy Roll tooling change, service and alignment
d. Heavy Duty Base
Applications:  When often Roll Tooling change is required, alignment and roll
Tooling set up is easy and quick.
4  Section
Featured:
a. Inboard Stands with quick disconnect coupling
b. Outboard stand – standard design
c. Section plate – one section consist of 4 passes (standard)
d. Worm gear reducers continuous driven
e. Heavy-duty base with location pins for the sections mounting. The base is Build to accommodate different quantity Sections – depends on the Profile's passes requirements.
Application: The Sectioned Roll Mills are developed in order to save time and money for Roll Tooling change, tooling set up, alignments etc. The roll tooling for certain profile is aligned and setup in one set of sections (2, 3, 4 sections). With quick disconnect couplings changing set of sections from one profile to another is easy
5 Gear Head
Featured:
a. Ability to accommodate different size of Roll Tooling (Diameters) and bottom to top shaft ratio – 1:1, 1:1.5, 1:2 (or any custom ratio)
b. Inboard stand – gear head warm gear reducer with linkages
c. Outboard Stand – standard configuration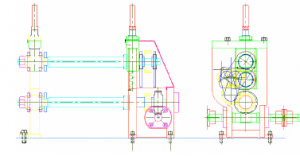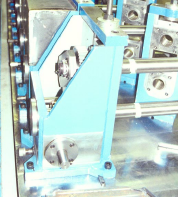 Application:  Designed and build mostly as an universal Roll Mill with ability to be used for forming different profiles – when different Rolls Diameters and ratio is required.
Duplex
A/ Duplex Roll Mill with cantilevered shafts:
• Heads adjustable towards the center line
Application: When both sides of the profile are symmetrical including any piercing towards the centerline. The centerline of the Roll Forming line is Datum. Opening or Closing the heads accommodation profiles with variable width. Continuous strip applications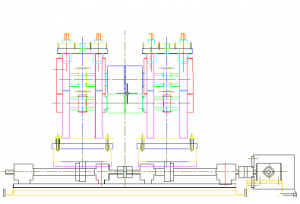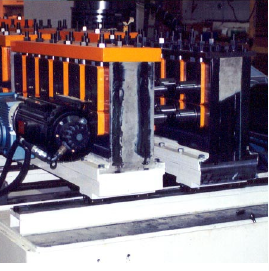 One head – stationary, other – adjustable with drive shaft through.
Application: When the technology is using pre cut sheet metal. Alignment of the sheet is towards the stationary Roll Mill Head. The Datum line is the Stationary Head's shaft alignment. Opening or Closing the heads accommodation profiles with variable width up to 48". Applicable for door panel lines.
B/ Duplex Roll Mill with slides shafts.
One head – stationary, other head – adjustable with drive shaft and Roll's shafts sliding through.
Application: Using Duplex Roll Mills with Top and Bottom shafts sliding through is applicable when the Cantilevered shafts Roll Mills are not capable of voiding shafts deflection. This type of design, features firm shaft support at any profile width without causing shaft deflection – when the bending line of the formed profile is too far away from the shaft bearing.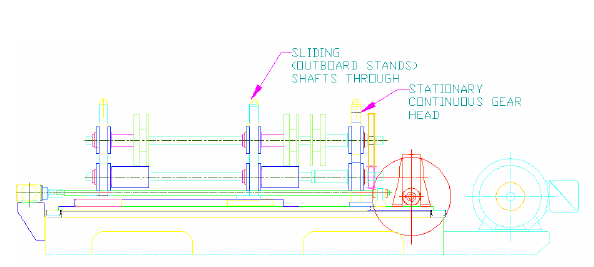 7. Double Duplex
Double duplex Roll Mill is an accommodation of 2 Duplex, Cantilever shafts, continuous gear head Roll Mills with adjustability towards the centerline.
Application: Stud Roll Forming Line. Stud requirements: Lip – ½", Leg 1.5" to 4" and Web 4"-12". The First Duplex Mill forms the lip of the stud. The second Duplex Mill is forming the Leg.  Construction applications, cable tray application etc.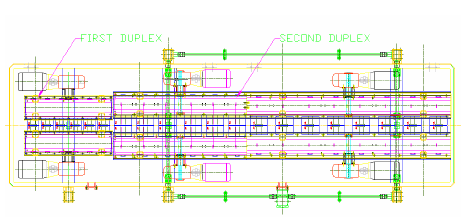 8 Double decks Roll Mill
Two Roll Mills are accommodated in one common base elevated in different height.
• Common base
• Common Drive
• Different height Pass Line
Application: Two similar Profiles are Roll formed simultaneously – i.e. corrugated Metals.